Further Adventures in Journalling
02.02.2015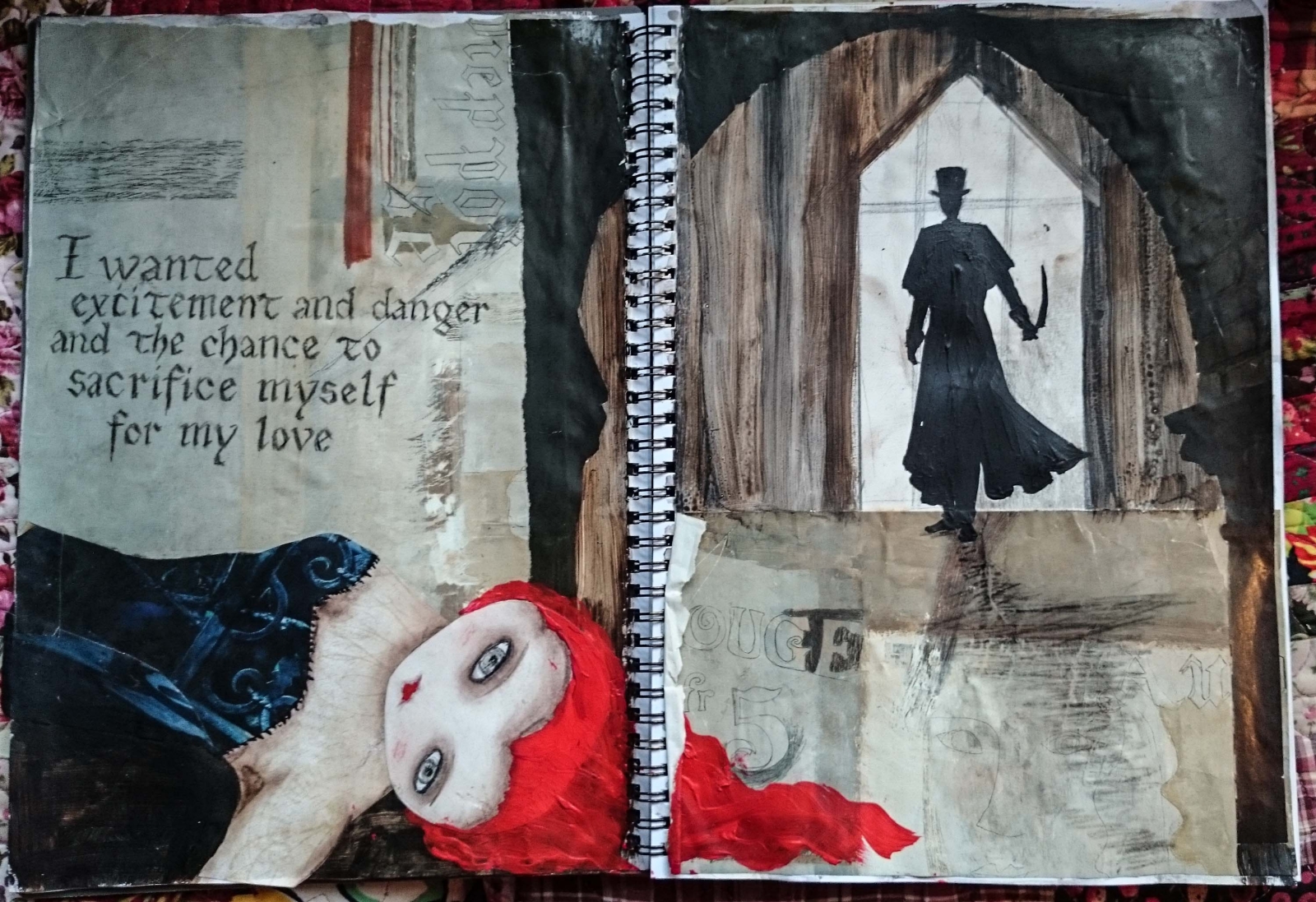 The latest prompt from "Journal 52" was Silhouettes. Whereas many of my fellow artists have found that summons up visions of sunset-backed woodland or candle-lit lovers, I fear the first thing that sprang to my mind was the classic picture of Jack the Ripper looming out of the swirling Victorian fog. Too much melodrama and film noire fills my head!
Hence I embraced my inner Goth, raided my stash of old magazines and produced this image: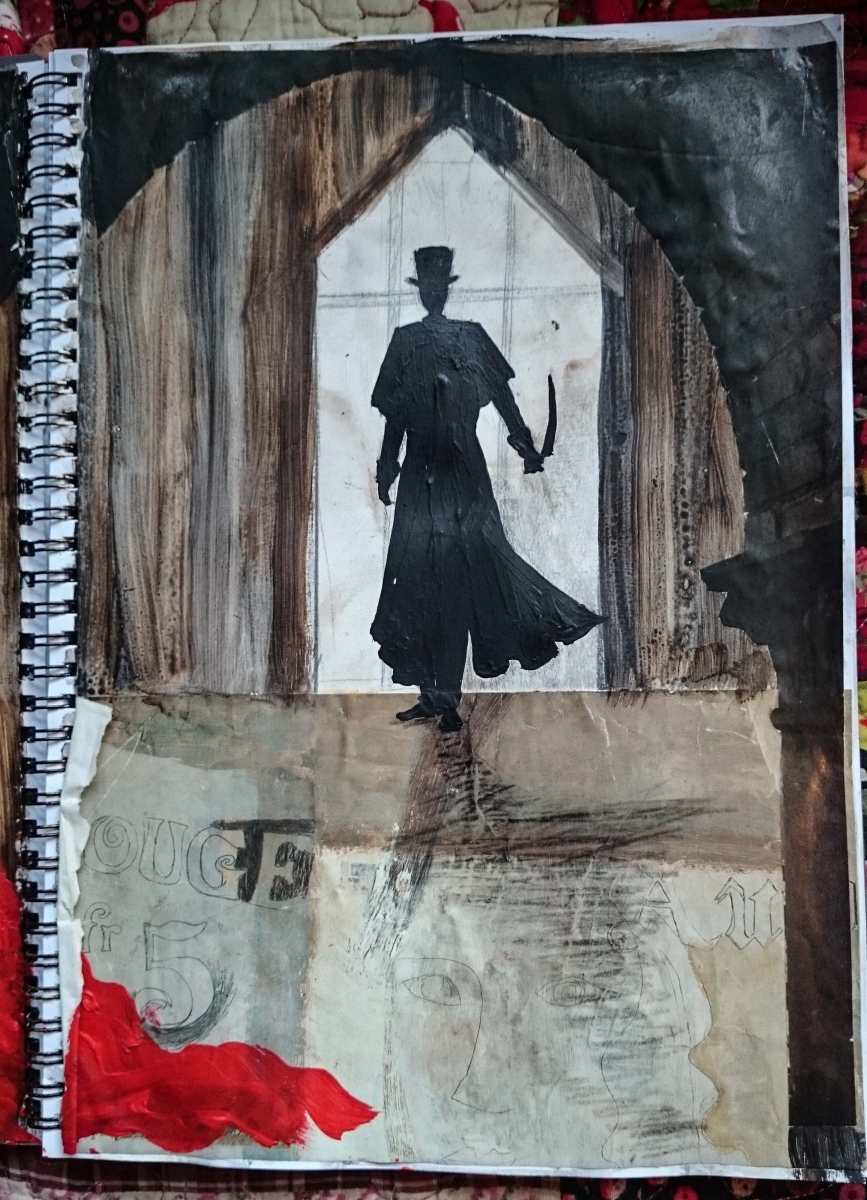 Our knife-wielding antihero stands poised in the doorway of a space which may be industrial or ecclesiatical, his shadow falling across the floor (an old magazine page which, if my memory serves me right, shows a Picasso sketch) towards the cascading hair of our heroine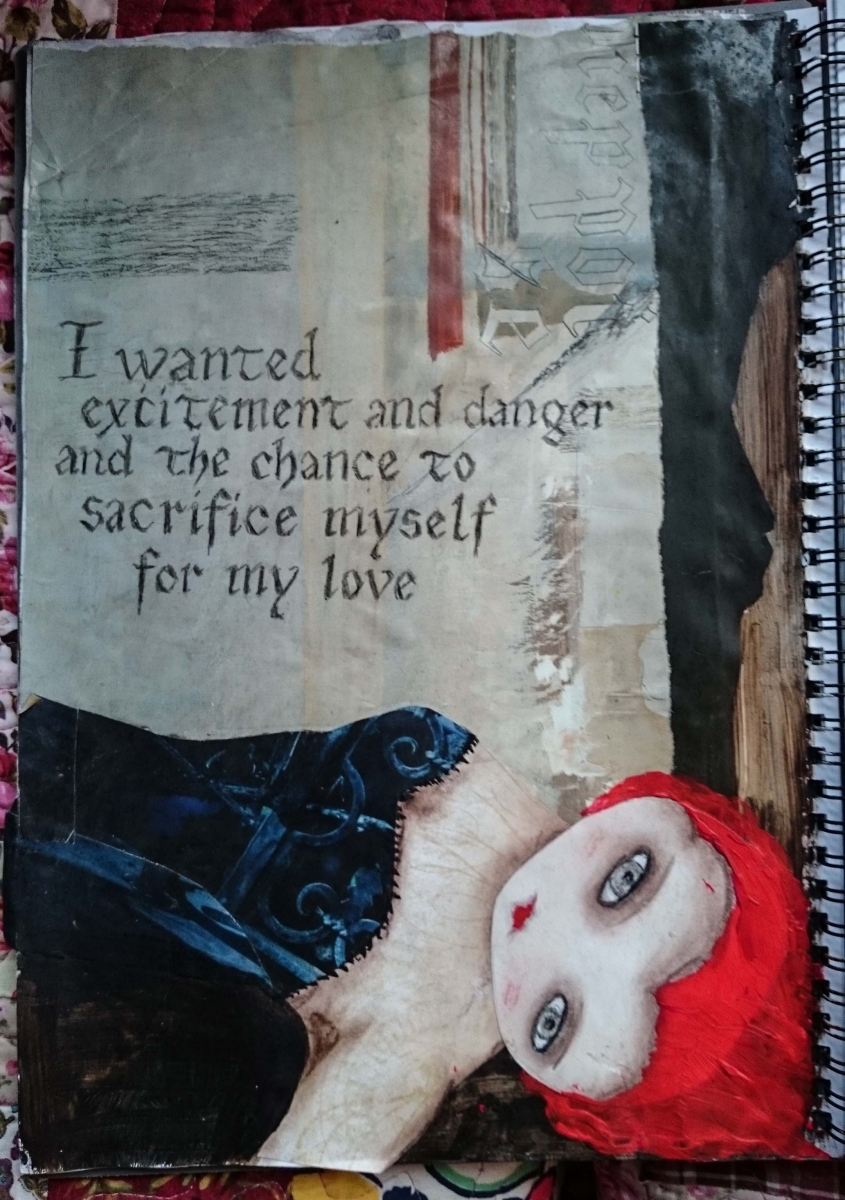 She is perhaps more noire than Victorian, 'tis true, more Black Dahlia than Mary Kelly. But I am happy with her combination of pale flesh, dark damask corset & blood-red hair - so much so that I may well use it in a new doll (to be called Elizabeth, of course).
And to muddy the waters still further, the quote upon the wall comes not from the obvious sources - although the notion of using one of the Ripper's letters, or something from Charles Dickens did occur to me - but from Leo Tolstoy's novella "Family Happiness", more recently appearing in Jon Krakauer's Into the Wild.
Now for the technical stuff: I began by coating my pages with white gesso to give them enough body to support the layers of collage without too much buckling, then added a wet-in-wet watercolour wash using sepia, raw umber & Payne's grey tones. In the end this is only seen in the window behind the Ripper, but it was a quick fix for that "big white canvas" feeling.
I found the Picasso page and another with the archway amongst my magazine-page stash, and drew the rough shape of my foreground body onto some plain paper, then cut them up & spent some time figuring best placement before gluing the glossy papers in position. A soft grey pencil suggestion of a window frame came next, and very roughly-mixed burnt Vandyke brown & Payne's grey acrylic applied with a dry brush to suggest a wooden wall before I painted the silhouette using black gesso.
Turning to the other page, I traced around my plain paper cutout to remind me of the body placement, then divided that shape into three: face, shoulders & corset. Each of those elements was traced onto a different paper, & the facial features were drawn & painted before cutting out (easier to work on a larger sheet of paper, I find, & better to do it before gluing in position in case of disaster!) Then more cutting & gluing before I turned my attention to the quotation upon the wall.
A little online hunting turned up a Gothic font which related to the outline lettering already on the collaged magazine page; I freehand copied it using a Caran Dache watercolour pencil. A quick coat of matte varnish holds everything in place before a final light coat of beeswax furniture wax (odd, I know, but it brings out the dark tones, stops the pages sticking together & makes my journal smell divine!) Et voila!