Inspiration is on the Cards
02.20.2018
Like just about everyone else, I had a deck of tarot cards when I was a teenager. The book fell apart years ago (an aside - why were 70s paperbacks so very badly glued?), but I do still have the cards - an Arthurian deck by Caitlin & John Matthews.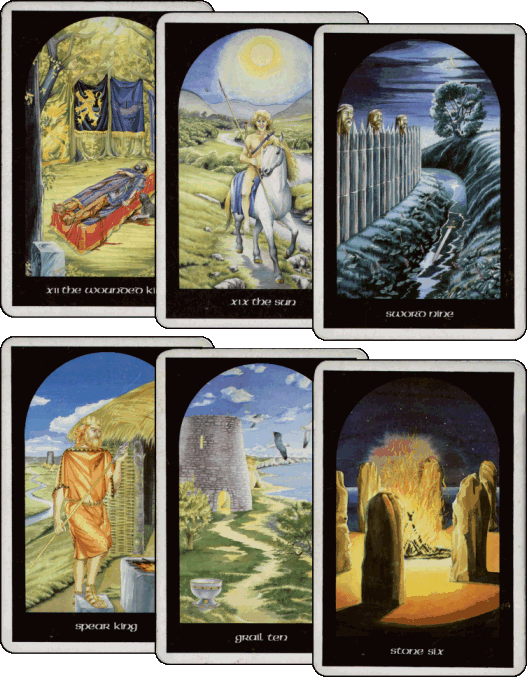 The imagery may have dated a little, but I feel they will prove very useful as inspiration for my upcoming Morte d'Arthur designs. Justification, as if I needed it, for not throwing things away!
In the intervening years, they have been sat on a bookshelf untouched because - like most of us - I never really got to grips with the whole Tarot system. However, I recently discovered the Little Red Tarot site which stocks a plethora of gorgeous self-published decks (and don't we all prefer to support the independent artist!) and went on to take an e-course with Susannah Conway. The result was a hit to my bank balance, but a shelf full of stunning imagery.
Allow me to share some of my favourites: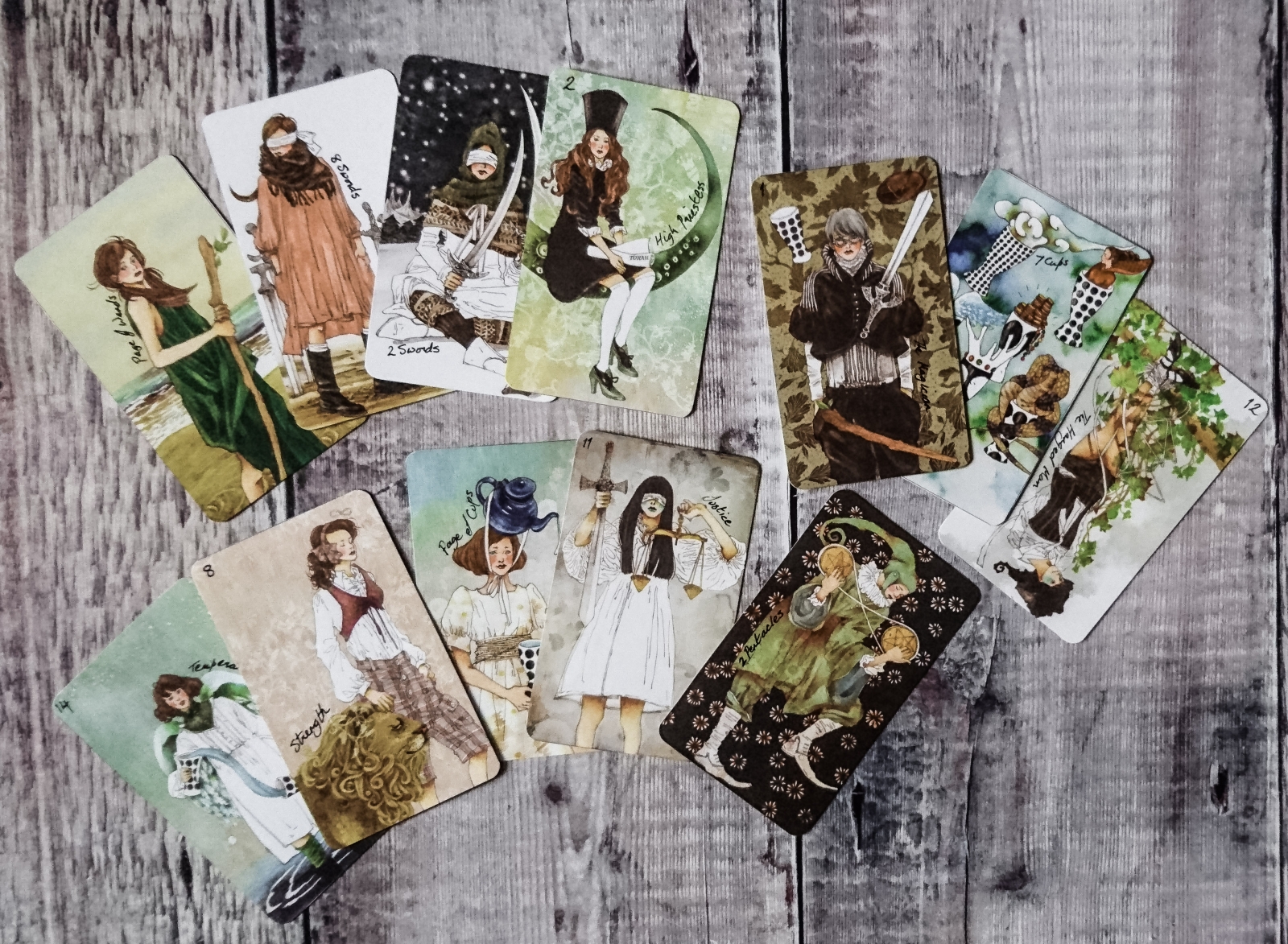 This is the Dreaming Way tarot by Rome Choi, illustrated by Kwon Shina - and having said that I prefer to buy indie pieces, this is a mass-produced deck available via Amazon. But I do like its quirky attitude (the tea pot on the head!) and muted colour scheme. And following the lead of Ms Conway, I felt free to cut the white borders off, re-writing the name of each card by hand - something I should be loathe to do to a less easily-replaced set.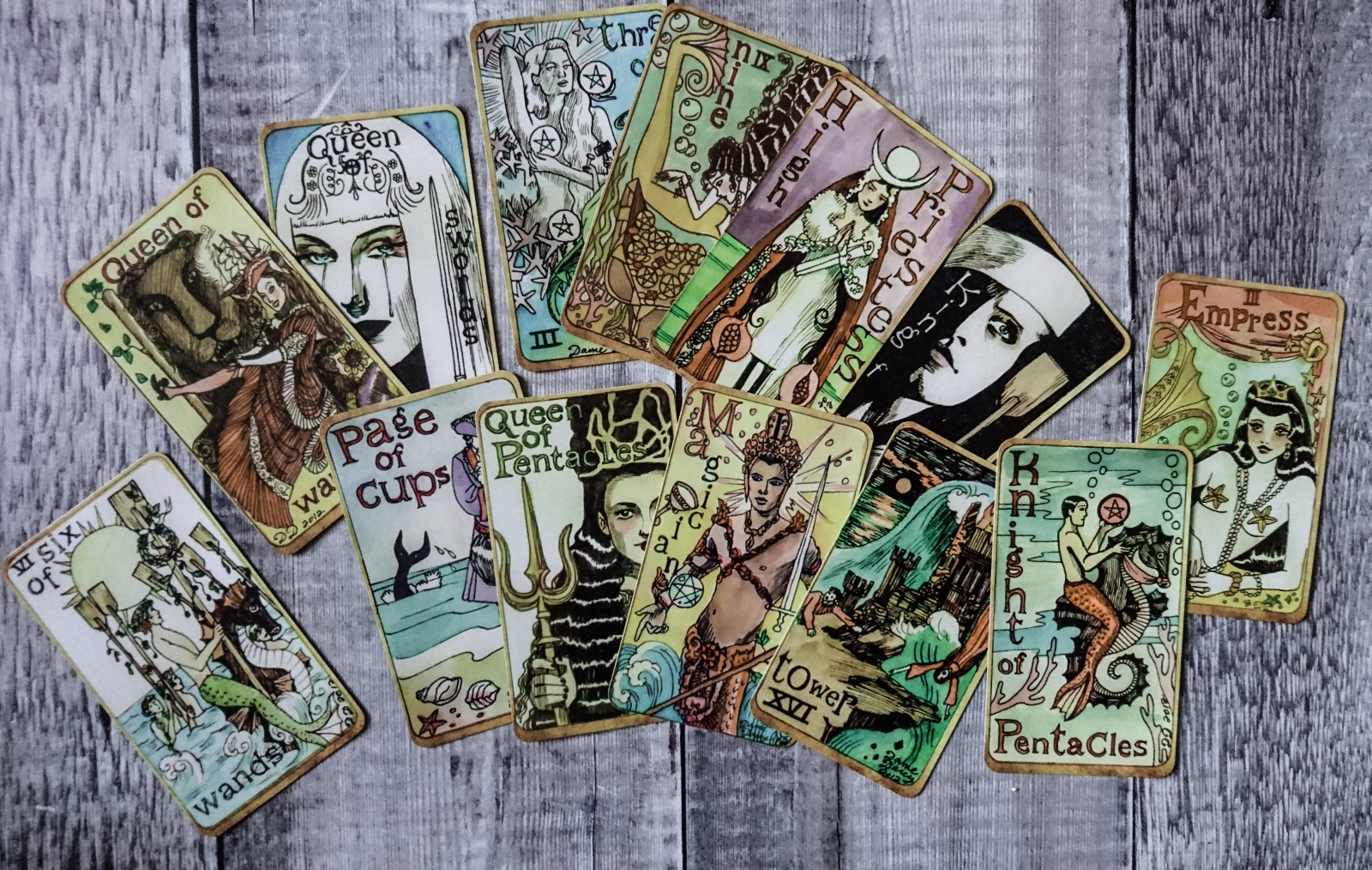 This is Dame Darcy's Mermaid Tarot bought direct from her Etsy shop. Now I'm not one for sugar-sweet mermaids with long pink tresses and Disney-worthy smiles cavorting with snow-white unicorns, I fear. This deck has none of that, but rather is filled with hand-drawn sea creatures, pirates, camp sailors and - yes - the odd mermaid. Excellent fodder for my mermaid journal...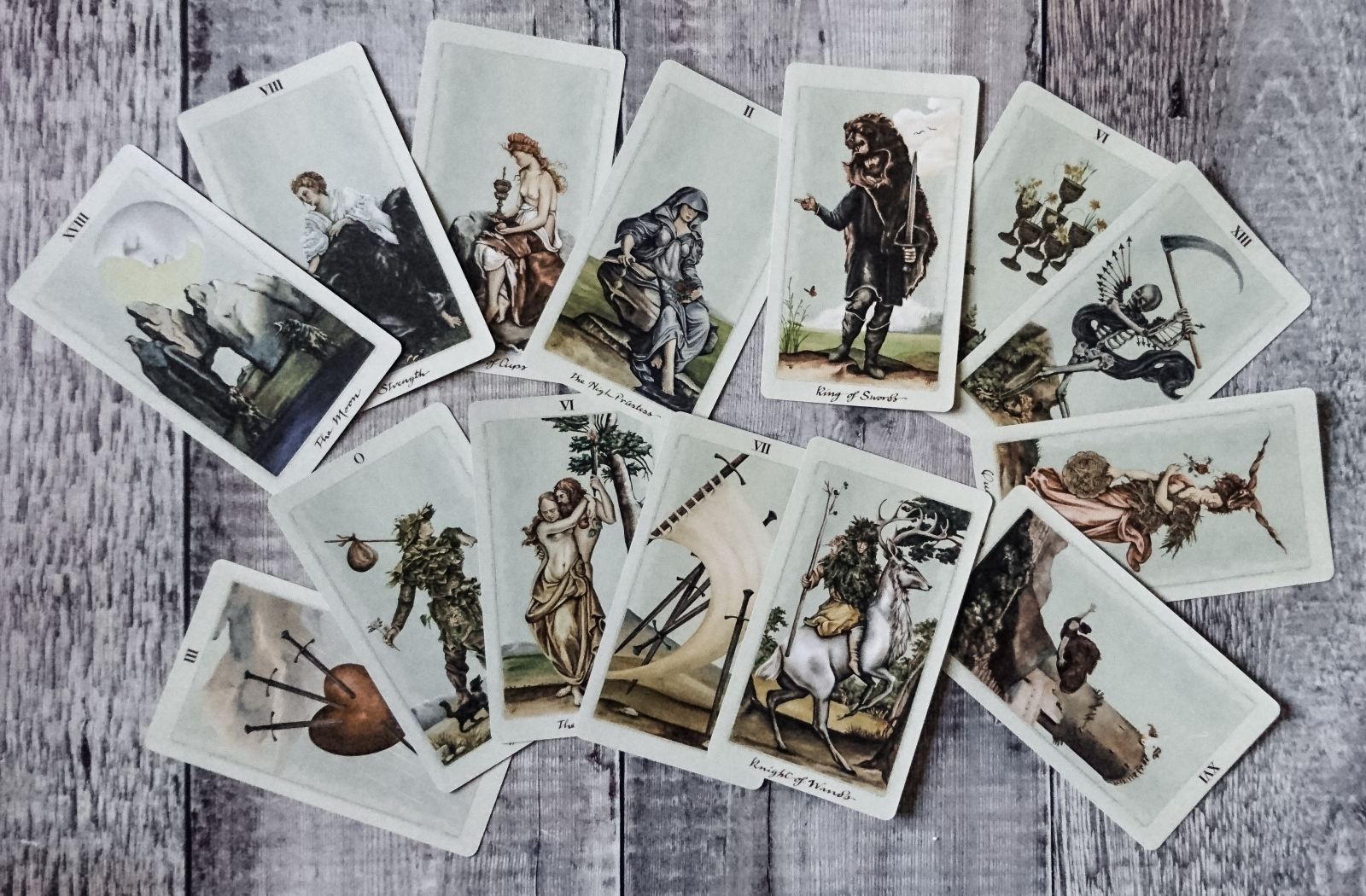 Good lord, this one was pricey - but look how utterly beautiful! Pagan Otherworlds features oil paintings by Linnea Gits and lettering by Peter Dunham. It is redolent of all my favourite Renaissance masters - Botticelli, Lucas Cranach, Durer, et al - mixed up with a Celtic mythos that appeals to my English heart. Cue gratuitous close-up..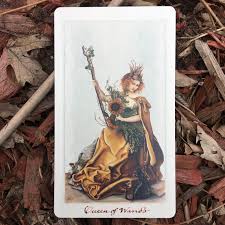 Now I am saving my pennies for the accompanying book - also available via Little Red Tarot. (I have no affiliation, by the way - just another happy customer!)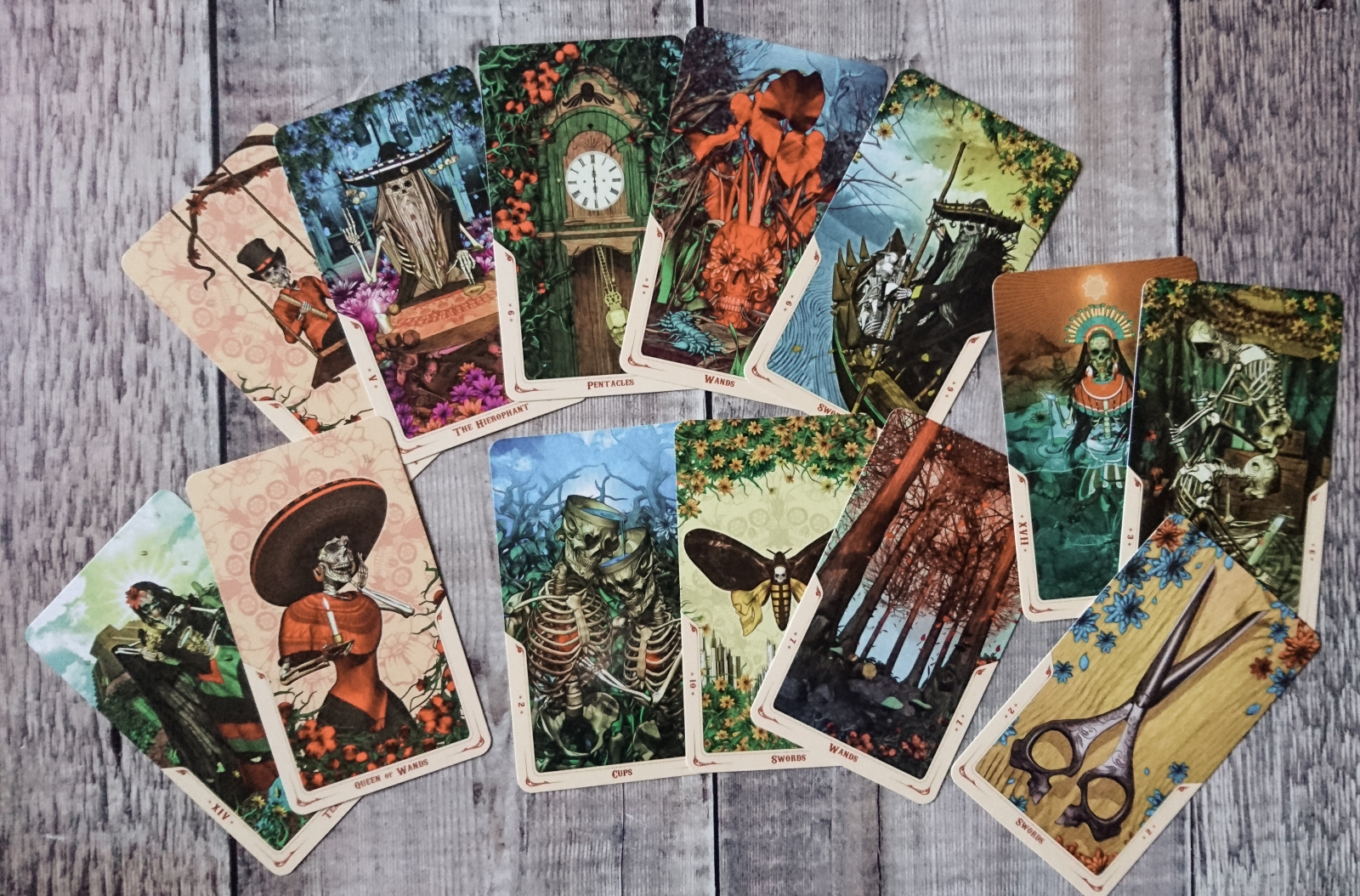 Santa Muerte by Fabio Listrani goes against so many of my preferences - mass-produced, saturated colours, a little bit big for my (admittedly small) hands. But who can resist an entire deck of Frida-esque flowers, skulls, butterflies; despite all the bones it is full of joyous images (heart-shaped eye sockets, for instance) in true Day of the Dead tradition. Indeed some of these cards have been tucked into the frame of my noticeboard whilst I work on my current Dos Fridas painting. (Which I'm sure will appear in a future post)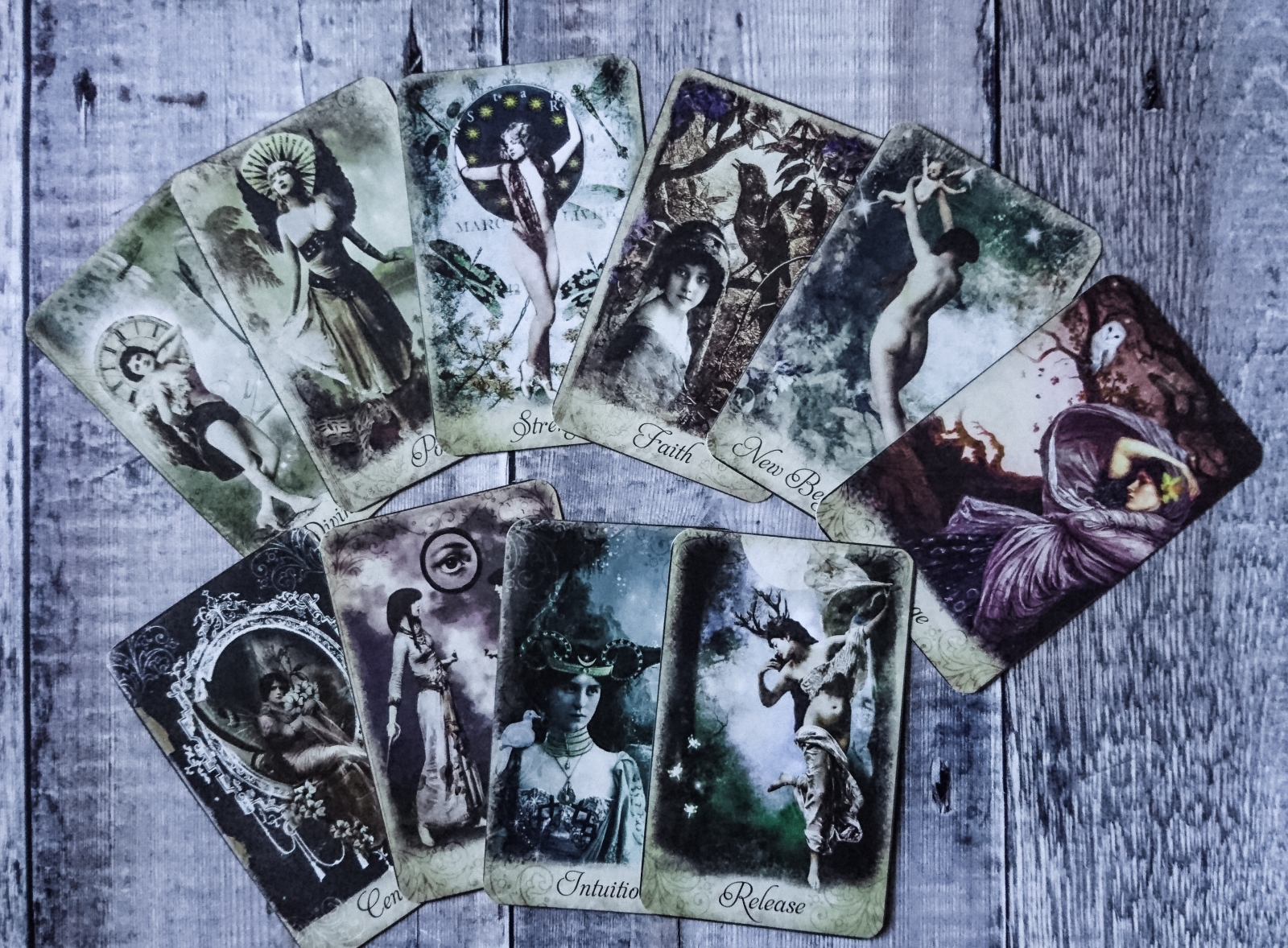 And finally the Vintage Wisdom Oracle, a collage deck by Victoria Moseley. Whilst I'm not a great fan of oracle decks in general, I am invariably taken by a good photo-collage - especially when a bevy of vintage beauties are involved. They are just so inspiring for both drawing and doll-making. Again I have de-bordered the cards in order to focus on the imagery and make them easier to handle.
So many pictures to look at, so many ideas to expand upon - and all packaged up in handy little boxes. What's not to love!