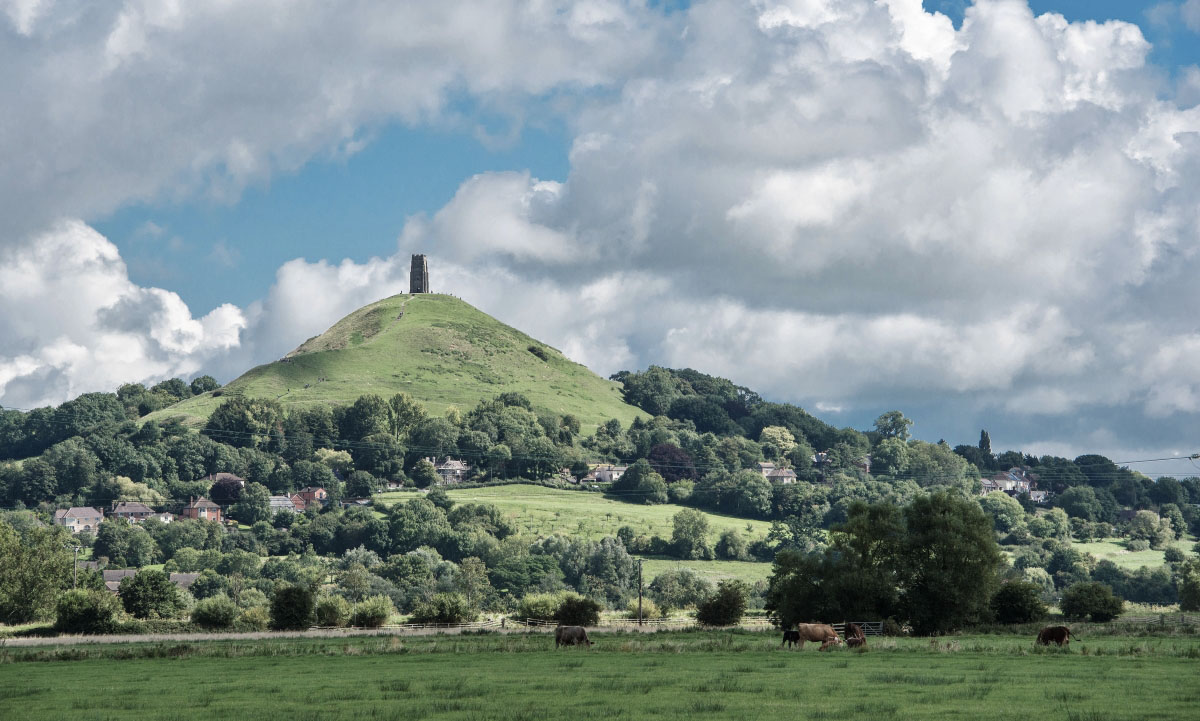 It is exactly a year and a day since we moved to our barn on the edge of the Somerset Levels, which seems like a most appropriate time to ponder the Bizarrium's new direction - digging into folklore and fairytales. Because doesn't everything take a year and a day in the stories?
The landscape here has a definite, distinctive spirit: the wide floodplains are a patchwork of small fields and patches of woodland beneath constantly changing skies, dotted with strangely uniform hillocks. We are just eight miles from the most famous of these - Glastonbury Tor (pictured above) - which lies at the heart of Arthurian legend, and under which it is said the king and his knights still sleep. The countryside is riddled with caves and bathed in mist, awash with tales of dragons, battles, witches, and giants, .
Add to that a house which began with stones taken from a small monastery destroyed by order of Henry VIII in the early 16th century. It grew over the centuries, with the central courtyard dating back only to the 1780s - but my sewing room was standing when William Shakespeare was treading the boards of the Globe.
Definitely time to dig into local lore.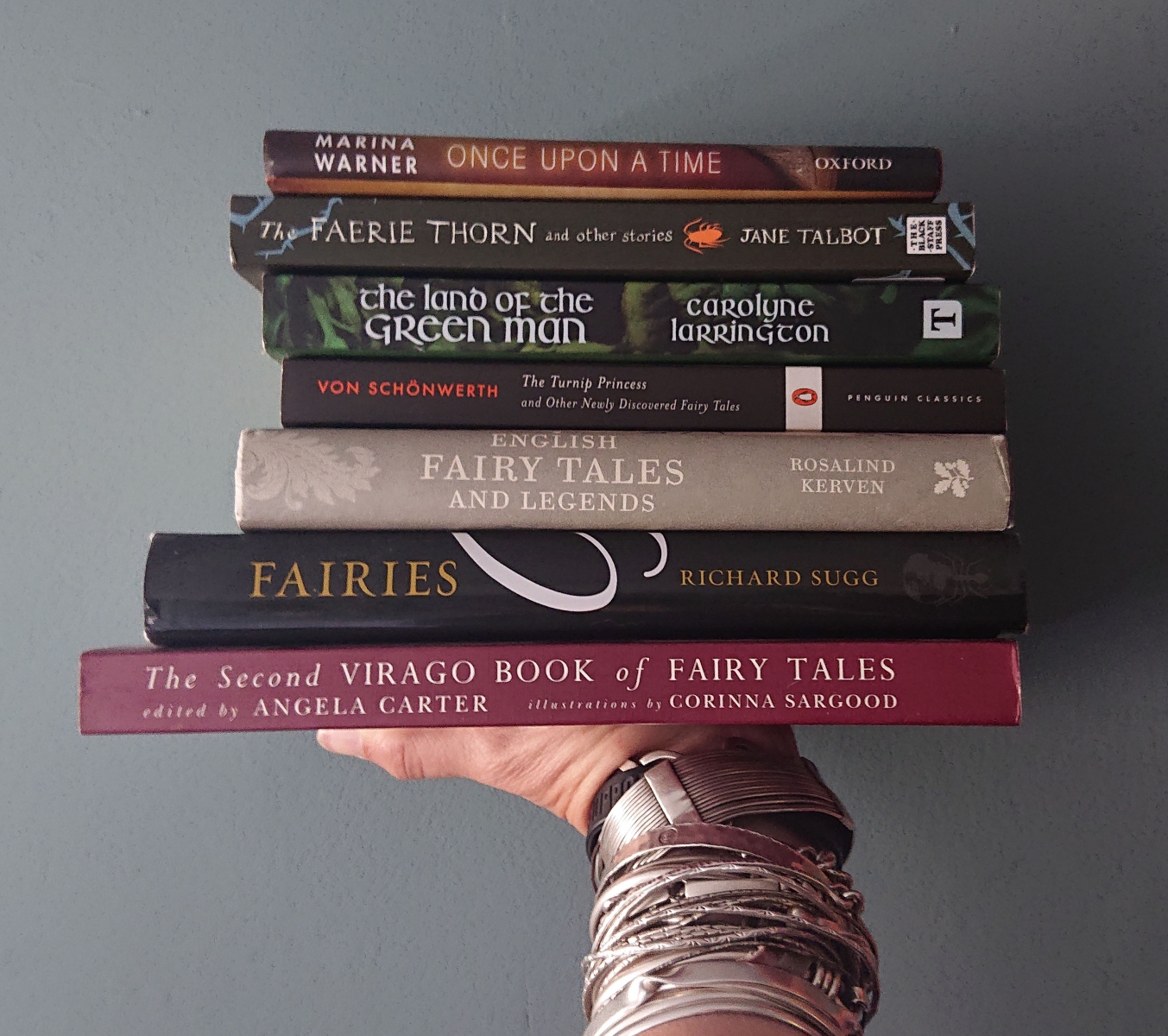 Reading and doodling as ever.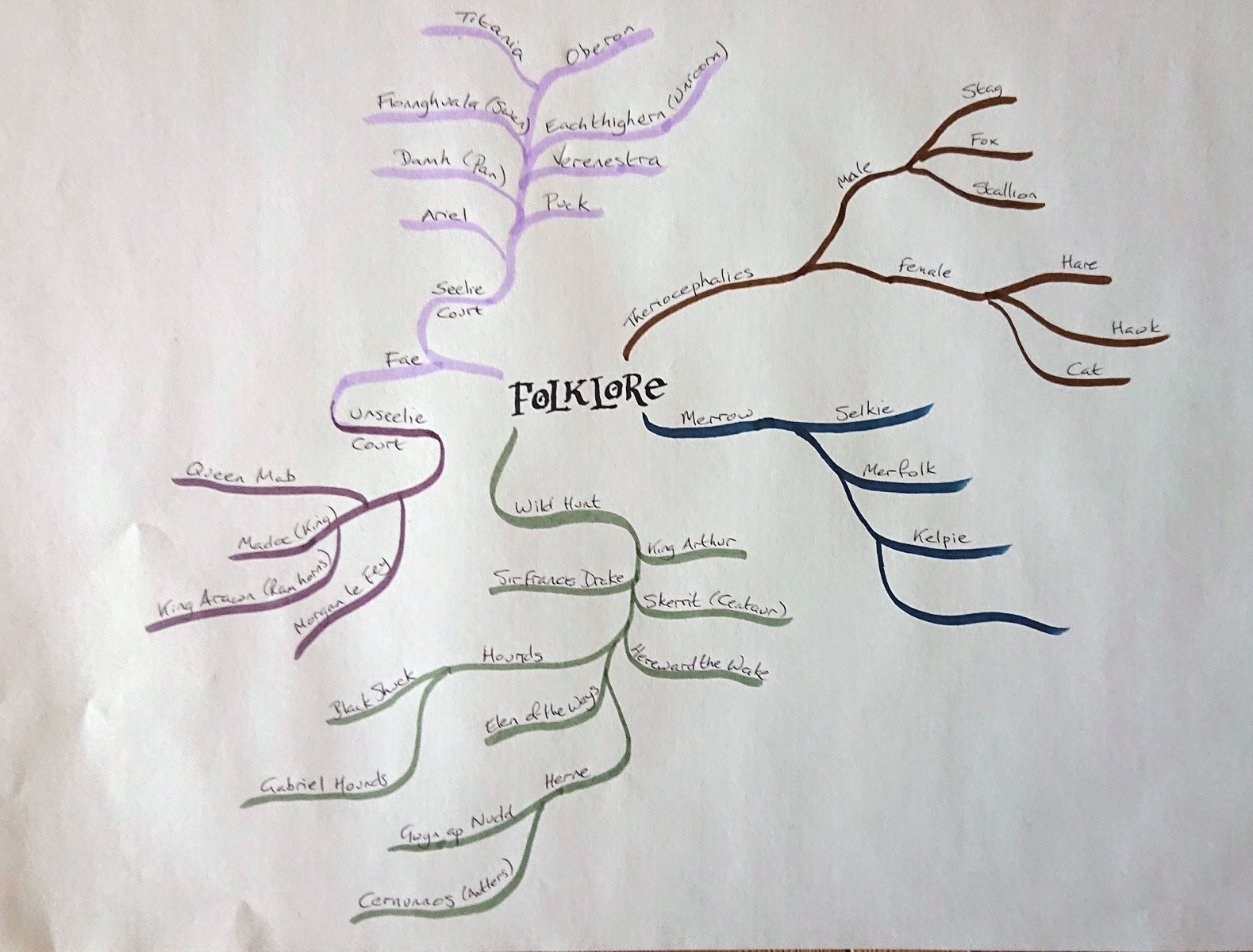 ---
In my diggings, I came across the warping of the word pagan. Current usage is a direct consequence of the early Christian church co-opting it to mean "an unconverted member of a people that does not acknowledge the God of the Bible...having little or no religion and who delights in sensual pleasures and material goods", with added elements of druidism, goddess worship and even Satanism. But the original (Latin) paganus simply meant a villager, someone rooted in nature and a particular patch of land. Hence the French paysan and English peasant.
Dear reader, I think I may be becoming pagan myself.
---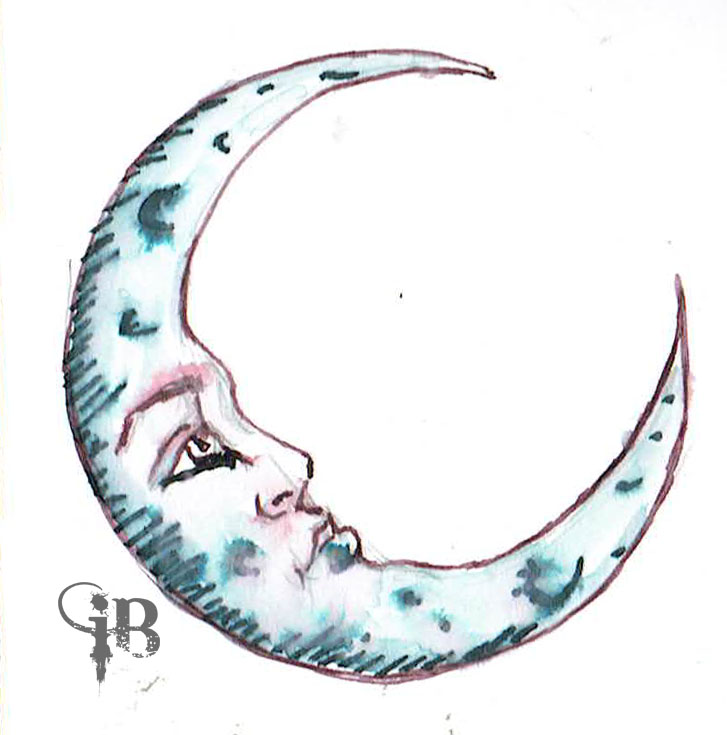 Long, long ago - or perhaps not - when the Levels were awash with floodwaters and the safe paths were narrow, folks must choose carefully which nights to travel. For when the moon was full and shone as bright as day, the way was clear and barely dangerous at all; but when she waned and the night was dark, the spirits of the marshes could come slithering out. Boggarts and bogles and all manner of oozing malodorous beasts would lurk and lure the traveller to an untimely end.
The moon heard rumours of what happened when she was absent, and one dark night took it into her head to visit the Levels for herself. She cloaked herself in midnight velvet to smother her silver light, leaving only the faintest of glows around the hem to light her path, and stepped out amid the waters...to slip almost immediately into a deep and reeking stagnant rhyne. The goblins and gremlins leapt upon her as they did upon any poor lost soul, binding her fast with ropes of slime and roots of reed. She struggled to no avail, succeeding only in dislodging her hood so that the full radiance of her face streamed up from the murky waters; the evil ones soon put an end to that by piling a cairn of stones upon her.
That brief flash of glorious light had been enough for one lonely traveller to make his way along the path, however - and when the next new moon failed to appear in the dark dark skies, he recalled that strange glow from the ditch. At the head of a group of villagers armed with lanterns and shovels, barrows and ropes, he led the way to the cairn which they heaved and hauled away.
The silver moon rose from the depths, becoming brighter and clearer until the villagers were all but blinded; they were forced to look away as she soared out of the water and back into the heavens, where she settled herself back amongst the welcoming stars. But the moon has never forgotten the kindness of those villagers who saved her from the stinking waters - and she shines just as brightly as she can across the Levels every night, to guide the weary traveller safely home.
---
I certainly need to make another moon doll, but meanwhile have started making some of the creatures from the mind map above.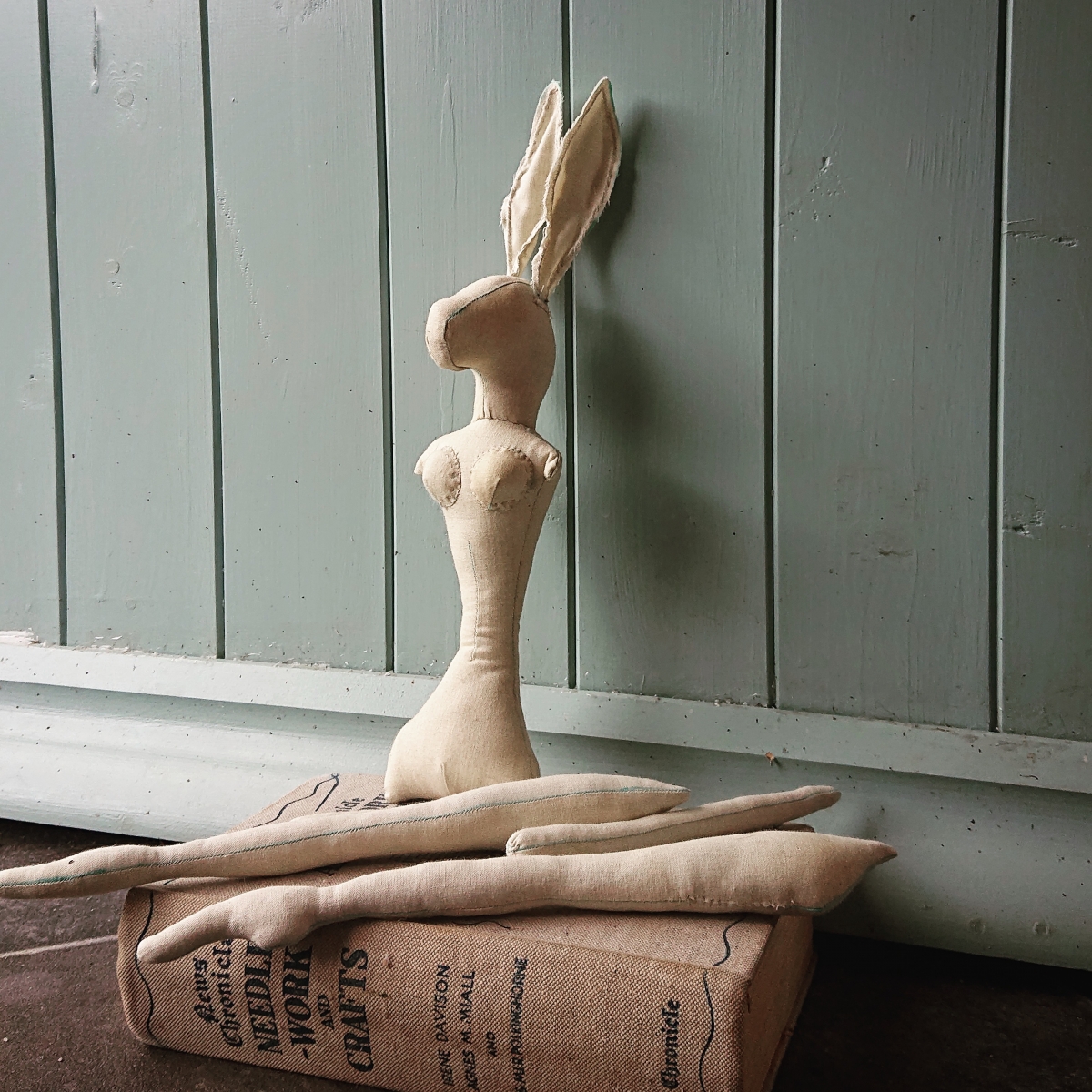 Animal-headed folk in the pipeline include this hare along with a stag, horse, cat, hawk and fox - definitely planning to keep to locally-found creatures. So no lions or bears, flamingos or pandas; but if these are well-received I may look at mice, badgers, perhaps even a cow. Thoughts, dear reader?
Meanwhile four fae are complete: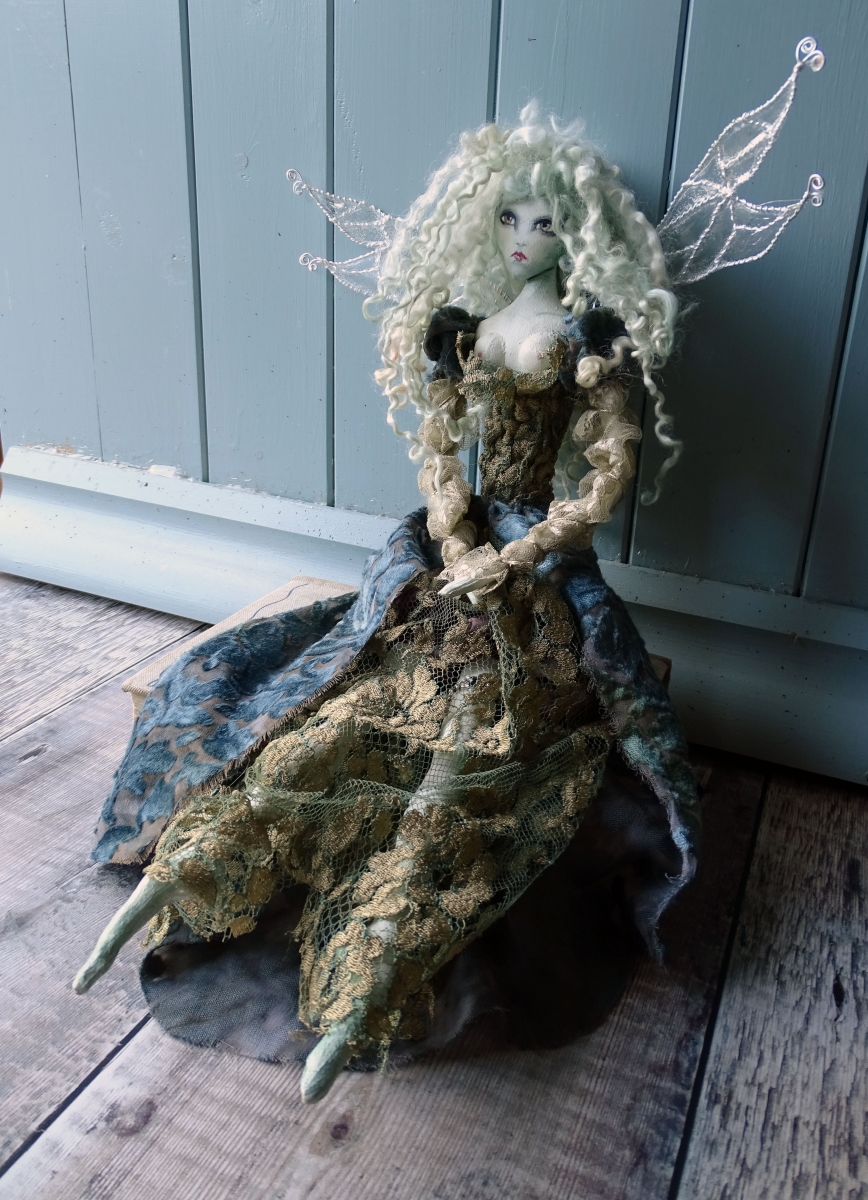 Dittany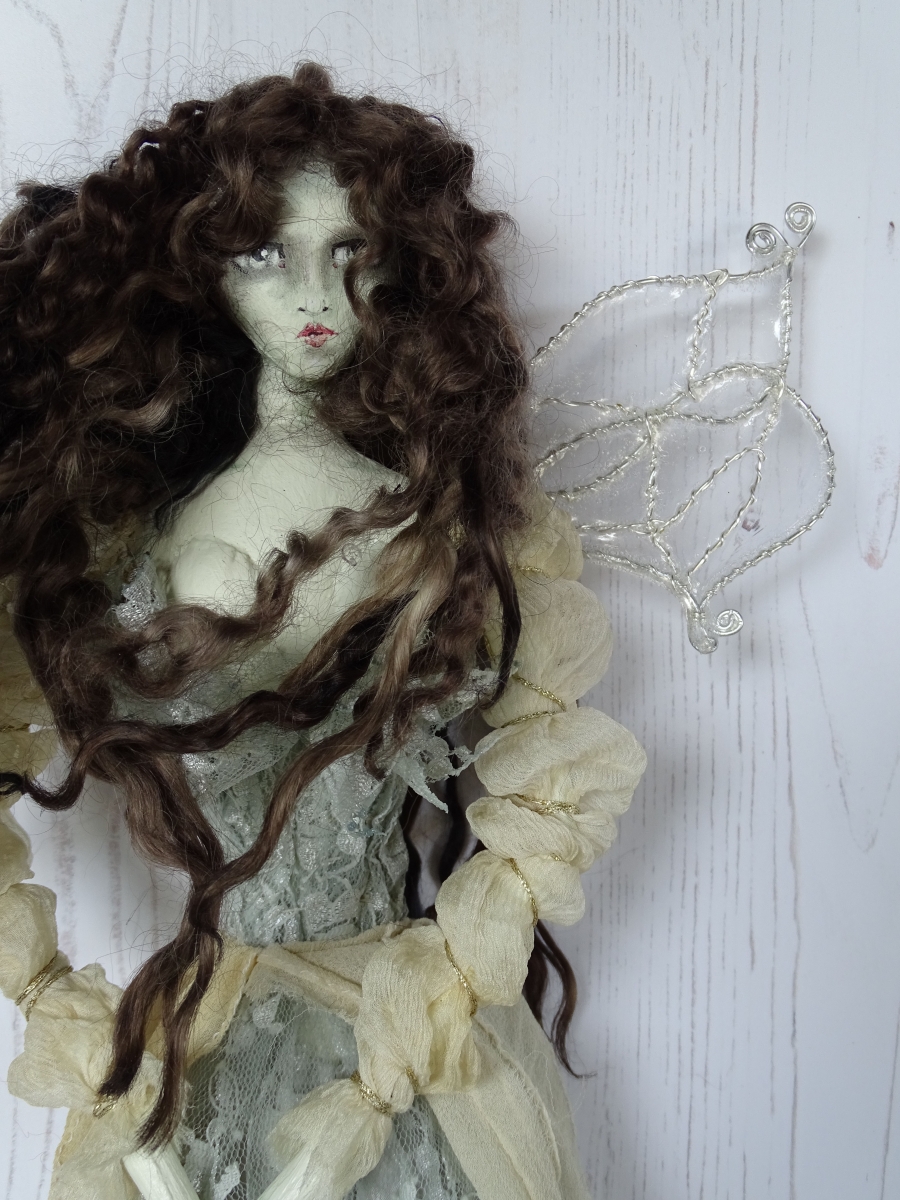 Cicely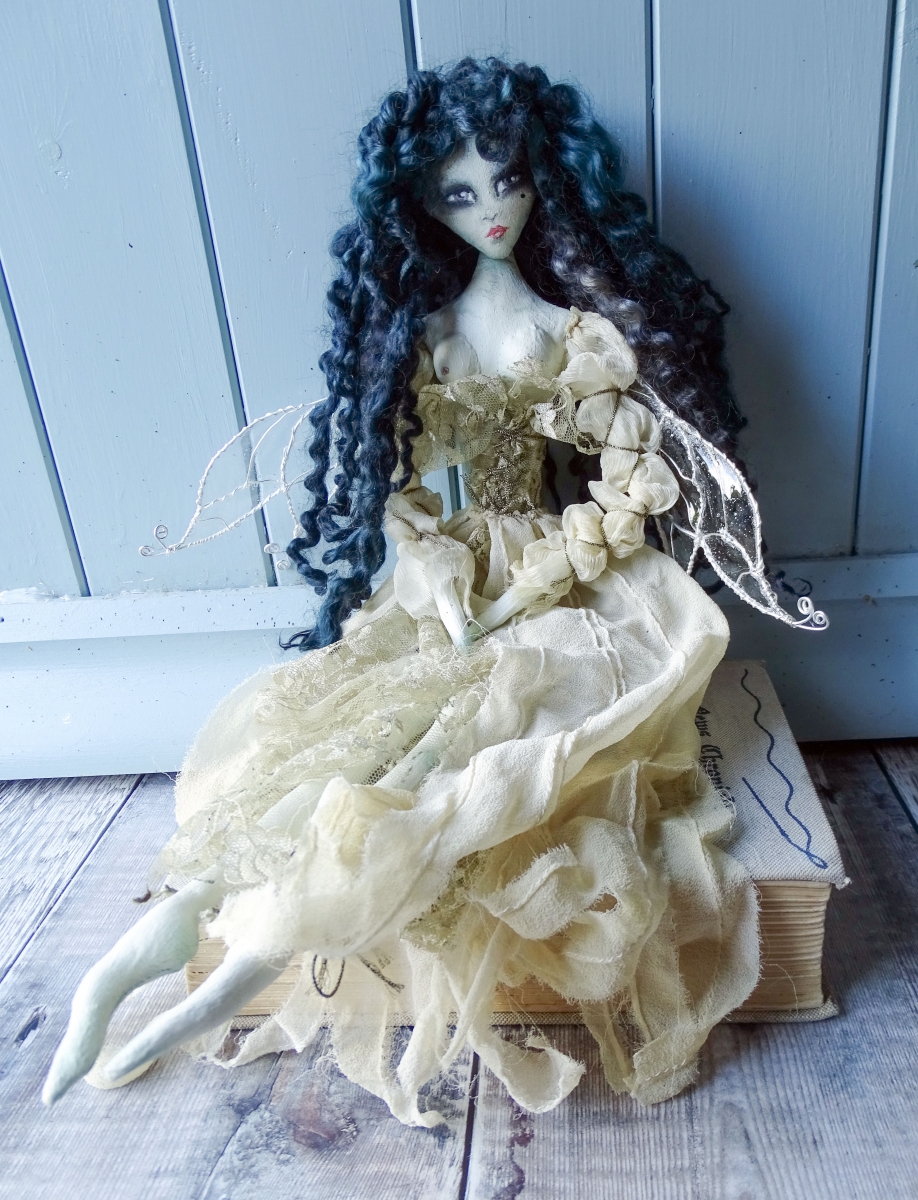 Tansy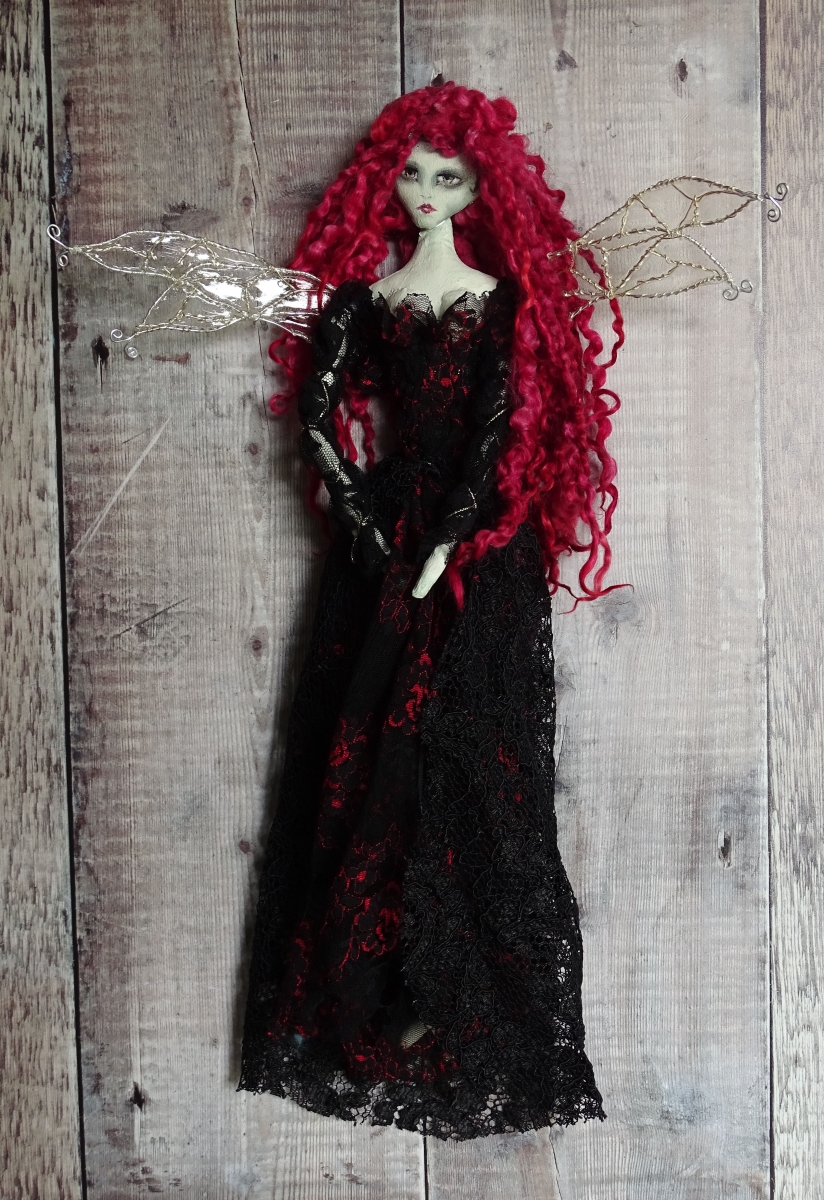 Betony
Each is unique, but they are all made of painted cloth with Teesdale locks for hair, and dressed in an assortment of vintage lace, silk and satin devore. Their costumes are inspired by Renaissance dresses as a nod to Titania, with their puffed sleeves, breast-baring bodices, and double-layer skirts. Wings are the result of many many messy experiments - I was finally made happy by a combination of resin with silver wire.
They are available in the Itinerant Bizarrium shop.